Source: https://www.forbes.com/sites/cassellferere/2023/07/11/miami-swim-week-the-shows-2023-elevates-swim-and-resort-wear-to-new-levels/?sh=1a395a3a5730
Miami Swim Week The Shows 2023, held from July 3 to 10, was not just a display of the latest trends in swimwear and summer attire. This edition, which hosted over 100 veteran and emerging designers in more than 50 public and industry events, also served as a notable platform for the sustainable fashion movement. One of the most prominent participants in this regard was Love For Upcycling, which showcased recycled garments and textiles on an unparalleled runway.
Under the direction of fashion designer and photographer Jose Alexzander, Love For Upcycling highlighted its commitment to sustainability through a live bikini-making exhibition at the start of its show. The display included transforming a dress into a floral swimsuit, serving as a striking opening to the presentation. The dominant theme of the show was patchwork design, incorporating denim and canvas textiles from objects as diverse as rice grain bags. Alexzander's creativity and commitment to reinventing and giving a second life to these materials resulted in ready-to-wear pieces that captivated the audience.
In addition, Jose Alexzander initiated the Upcycle Worldwide Design Competition, a contest that opens the door to a new generation of environmentally conscious young designers. This competition invited design students to create swimwear and resort wear pieces using 95% recycled materials, thereby encouraging creativity while promoting sustainability and environmental awareness.
The founder of Miami Swim Week The Shows, Moh Ducis, envisions the growth of this event as a catalyst for new and independent brands to flourish within the swimwear and resort wear industry. In collaboration with companies like Showfields and The Hammock trade show, the aim is to connect niche brands with fashion buyers and retailers worldwide. This commitment to sustainability is reflected not only in the participants but also in the official sponsors, which include sustainable brands like Kopu and Masami.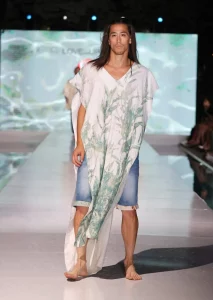 Love For Upcycling and Jose Alexzander showcased their commitment to textile reuse and the promotion of sustainable design, raising the bar for environmental consciousness and aesthetic appeal in swimwear and resort wear. Their presence at the event was inspiring, urging us to embrace more sustainable practices in the fashion industry.
The Love For Upcycling runway show at Miami Swim Week The Shows 2023 was a captivating display of sustainable fashion. Through their innovative use of recycled materials and their commitment to giving new life to discarded textiles, Love For Upcycling showcased a collection that merged environmental consciousness with artistic creativity. Witness the incredible transformation of garments into breathtaking creations in this video, as the Love For Upcycling team redefines the boundaries of sustainable design.
VIDEO
The presence and impact of Love For Upcycling and Jose Alexzander at Miami Swim Week The Shows 2023 highlighted the growing trend and need for sustainability in the fashion industry. Their focus on reusing textiles and promoting sustainable design not only creates conscious fashion but also elevates swimwear and resort wear to a new level of environmental consideration and aesthetic appeal. As we venture into a more conscious and responsible future, their inspiring vision reminds us of the transformative power of sustainable fashion and invites us to reconsider our relationship with clothing. Together, we can build a future where fashion and the care for the planet merge in perfect harmony.